Comfort is the key!
Haven't we all heard this a million times over the course of our existence on this planet? But it is an undeniable fact!
And as the years passes by, the more I realize how vital it is when it comes to clothing.
I have tried different styles of clothing and always tossed away those that made an uneasy wear. A good quality tee and ripped jeans with heels are my all-time fave but let's face it society won't allow us to wear jeans and t-shirt everywhere (or let us go pants-free either!).
I think comfort equates to clothing that you could easily wear; yet looks wonderful on you and suits the occasion. Cue in jumpsuit! This one-piece clothing comes handy when I am running late – I just hop into a full outfit! I have done outfit posts here, wearing jumpsuits before, so those who follow would know they have taken a major section in my wardrobe.
A few days ago, I went to Meraki and it was one lovely experience. The ambience there was cozy, jazz music played in the background and I sipped on the best cappuccino in Male'. I wore a blue jumpsuit with polka dots. I think the last time I wore polka dots was when I was nine years old! So this was actually fun to wear. I paired the look with a round basket bag – not to mention it's the most sought-after bag style of 2017. A wicker (or basket) bag is perhaps the best addition if you are collecting bags. It is the perfect summer accessory and goes well with white cotton dresses. You could experiment different looks with it as well. I rarely match the color of my jewelry with shoes or accessories but this time I went a bit bold by pairing my white ceramic Bulova watch and New Look shoes from ASOS.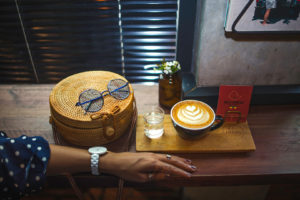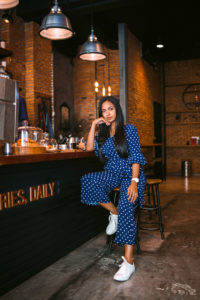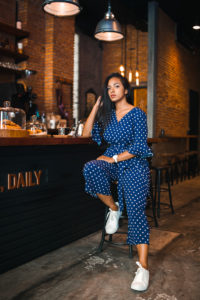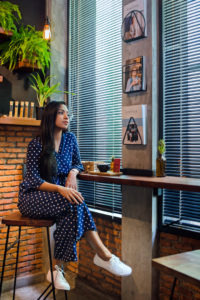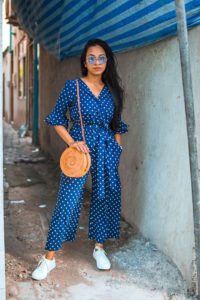 All images are a copyright of Famushu and must not be used without the prior written permission of the author.