I have not been able to blog about the fashion weeks and I feel very guilty about it, especially since I have been following the shows very closely (and by closely I mean Vogue runway, whowhatwear, manrepeller from my laptop sort of way). There is so much I want to say yet so little time, and fashion weeks wait for no one. But, I would love to share with you all, what I think about some key collections and designers of this season – so that will happen soon!
Some of the trends and designer pieces from the recent fashion weeks, are already worn by the fashion show front row-ers. Influencers I love, like Aimee Song, Camila Coelho, Rocky Barnes and Chriselle Lim have been sporting the latest looks fresh off the fall/winter runway. A number of them have been spotted in bright colors to neutrals and all-blacks. The latter might not be a new addition but it is such a stark contrast to the bright colors seen on the street style stars that it seems to draw people like me towards it even more. I love wearing black – needless to say – it was a transition (yes, I used to love all colors in my wardrobe) that I made a few years ago. Wearing black is not being dull or boring, in fact playing with restrictions is tricky if you want to keep it classy and unique. I love to use contrasting materials, textures or even incorporate prints into an all black ensemble.
Which brings us to the outfit I am wearing here. I went with a thin, knitted, ribbed black blouse with bell sleeves. It gave that Charlie's Angels, Charlotte Rampling in the 70's vibes. I could not resist. I had to pair it with my long wide legged pants from Glamorous, to add some more of that 70's feel. The pants were incredibly comfortable and the tapered lines in muted colors paired elegantly with an all-black number. The vintage-style necklace is from ASOS and earrings from Famushu Boutique. Fashion, today is becoming more and more of a melting pot of different eras. Some of us are mixing elements from the 90's with the 80's and the 20's! So I thought I would balance the 70's inspiration with some thin 90's inspired frames. Thin frames are statement makers and wearing one can give that polished finishing touch to a look.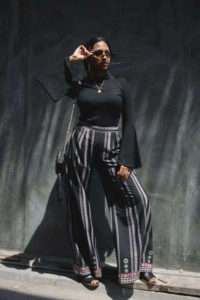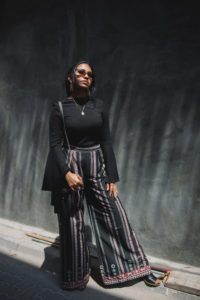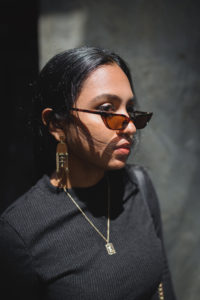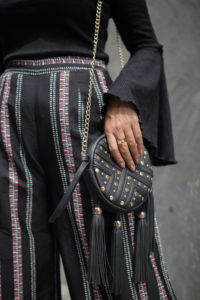 Shop similar accessories from Famushu Boutique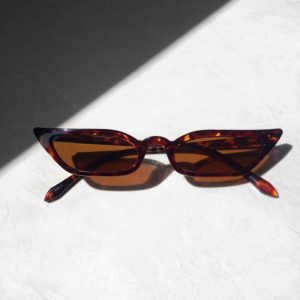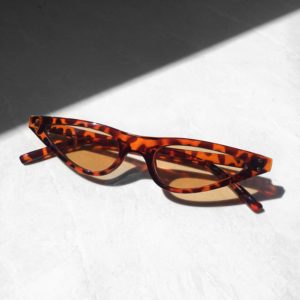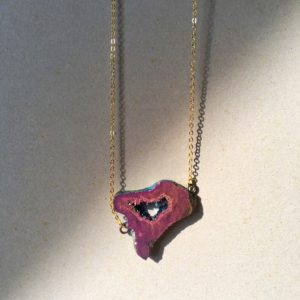 All photos are a copyright of Famushu and no image/s or part of it must be used without the prior written permission of Famushu.