Runways are always so stiff so it's a nice change when people make runways fun. I always love watching Betsey Johnson's shows because she brings the fun into the runway. Sometimes though, some crazy things happen in runways leading into some major fashion mishaps.
Let Me Take A Selfie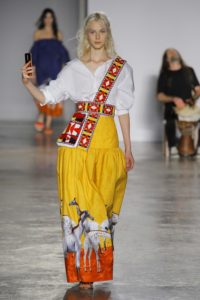 Stella Jean's Spring show was a beautiful cultural appreciation moment, shining light to the Bolivian Cholitas and their native fighting petticoat dresses. So when a model walks the runway holding a phone in perpetual selfie mode is a bit comical, especially in the mix of the urban-native look that also features giraffes. Can we take a moment and pop out the pop culture from actual culture?
Hanging on to 2017 Like Its No Tomorrow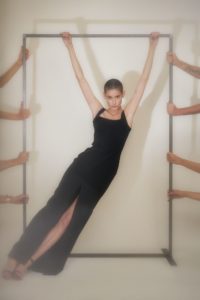 Martin Grant is apparently tired of the red carpet so he had a showroom show and used a cloth rack that's a bit shorter than the models and hired a bunch of hand models to hold on to it, and if this isn't a representation of how 2017 is going, then I don't know what is. Coincidentally, this is also how I would want to say hi to my crush. No big deal, just casually handing on to a random clothes rack. The long black dress with the slit is classic tho.
What Even Is This?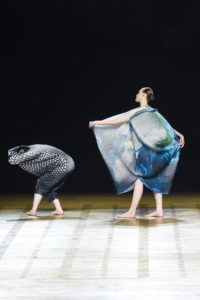 The Issey Miyake show was clearly art, but when you take still pictures like this without context it is extremely painstaking to look at, and even worse to figure out what is happening. The clothes themselves give a sense of flat earth syndrome and the silhouettes are bland and shapeless. I am not sure if there is anything nice I can say about any of this.