As most of you would already know by now, I am not a big fan of bright colors. My wardrobe displays a range of neutrals (mostly, black, grey or beiges) but when it comes to styling or designing I use whichever 'bright' color that is needed. Basically I love working with color, just not wearing it! So if you catch me wearing red, blue, green or even pink then it's because I was actually fed up of neutrals that day! The recent Fall/Winter 2018 shows had a myriad of bright and bold colors. From Stella McCartney, Akris to Marni; there was a bold red in every collection this season.
So, I figured I could give it a try. After all, red suits all skin types – period! It is also a color that has a strong significance in different cultures. In India red represents fertility, in China it is considered to bring good luck and fortune and in Iran it symbolizes courage. Even in the Maldives, (the place I call home) red is used in women's traditional clothing and adorned with gold jewelry. Some colors like red are so ingrained in our cultures and histories that they feel timeless and classic – they can be dressed up or dressed down, worn as a traditional sari or as a simple slip in the Summer.
Back to my outfit in this post – I wanted to use red in a casual look, so I got this thin jumper with a snake print on it and wore it with my black  Missguided jeans. I thought I would go a bit bold with this look and pair contrasting colors like black and white – thus the New Look white shoes from ASOS, and matched a red ASOS bag with thick straps and chain with my red jumper. It is a comfortable look, which I could wear on a night hanging out with my friends or to any such casual occasion.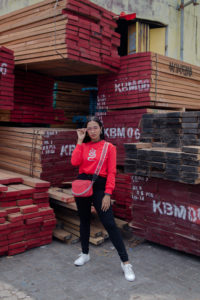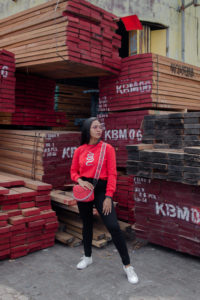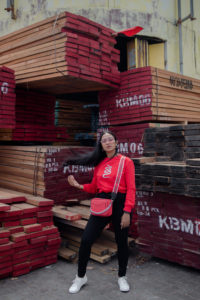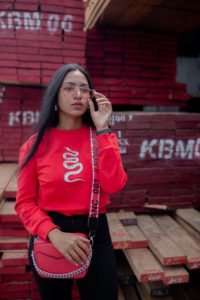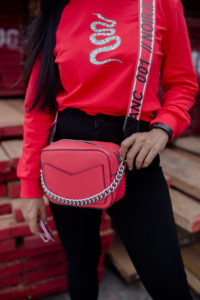 Photographed by Skyrim
All images are a copyright of Famushu and no image or part of it must be used without the written permission from Famushu.