Ah! So good to be back to blogging after a loooong absence (put the three extra o's to emphasize my M.I.A from Famushu) It feels like a century since I blogged and feels even more terrible to know that I have missed the SS2012 fashion weeks as well! Pardon me, dear Famushu readers but I have been involved with the demanding work of preparing for my exhibition. Currently, am breathing hot air from my nostrils and whizzing up and down from one location to another directing and making sure all things fall in place for my fashion video…Yes, you read it right…It's a fashion video I'm making for my exhibition. And I'll just leave you guys there; keep you guessing what it could be about conceptually. 😉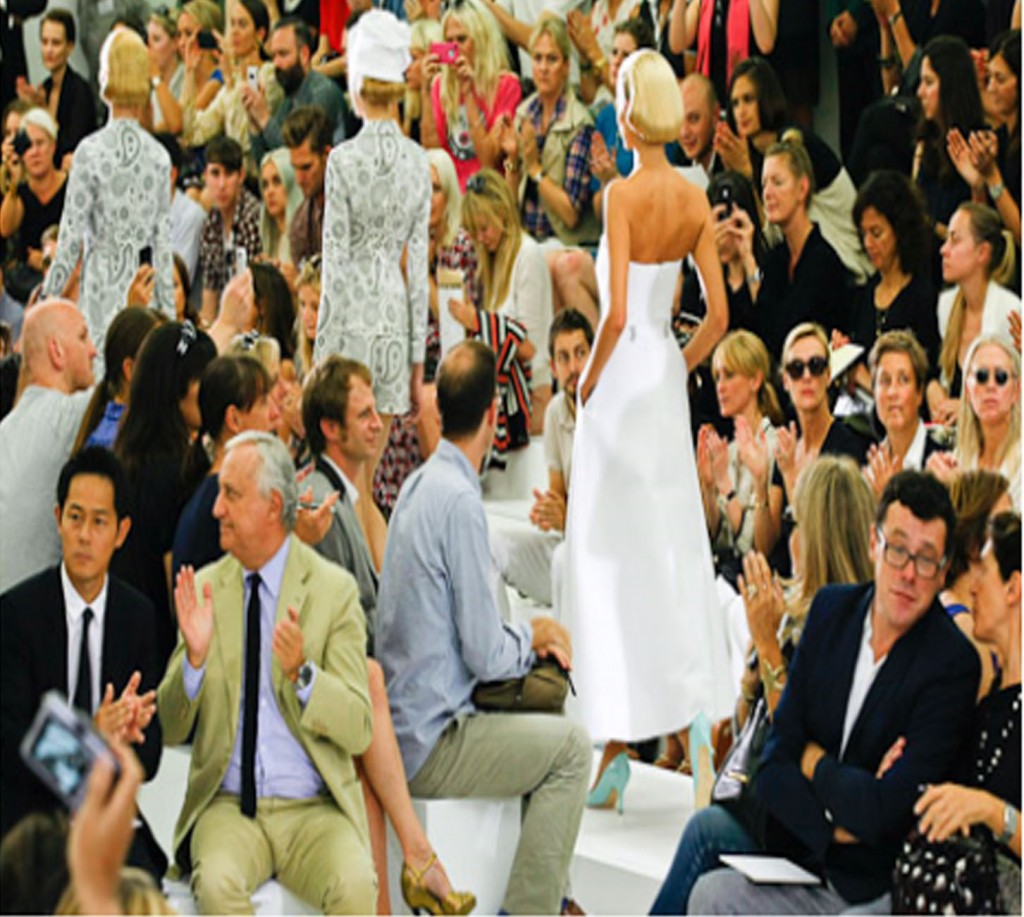 The recent SS12 fashion weeks of New York, Paris and Milan was lip smacking sensational, like those fizzy sparkly tongue tantalizing candies! Mmmm mmm! Although, the internet is flooded with pictures and reports of the catwalk couture, I'll highlight some of the trends and individual designers that caught my inner designer eye (imagining how that eye would look right now hmm…)! The deep ocean and its oceanic life were a concurrent inspiration and theme behind the brands Chanel, Peter Pilotto and Alexander Mcqueen to name a few. Even though I live on an island (that is just 1 meter above sea level with the ocean surrounding us 360 degrees) I never get bored or tired of hearing how fascinating the underwater life is or how beautiful the blue tone spectrum gradually changes from shallow to deep! So I got naturally excited to know that this spring the runway shows took inspiration from the deep sea!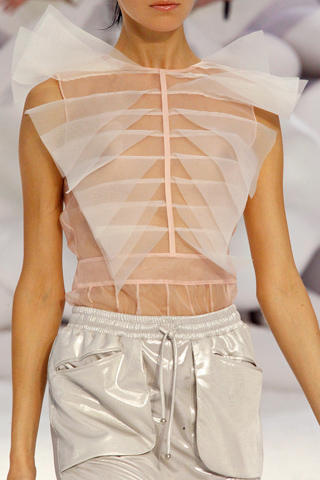 To fire off, the Chanel show seemed like a translucent oceanic dream. The head designer and creative director of Chanel, Karl Lagerfeld still seems twenty-something at heart, as he so passionately executes his opulent shows with genuine creativity pinched with the reality of wear-ability that clients actually look for. Karl's way of playing with textiles and exploring his concepts is youthful and refreshing and for this year's spring show he experimented with fabrics "even he didn't know how to define. They brought an iridescent mother-of-pearl shimmer to the collection—the lightness literally shone through." Style.com
I swear the hair on my arm stood up with goose bumps as I looked through Alexander Mcqueen's SS12 collection, the dresses were absolutely beautiful, poetic yet out of the world – almost alien-ish. It seemed to me like Sarah Burton created her own army of beauty goddesses from the deep sea – a sixth kind perhaps! The microscopic attention to detail that the designer had given with beads and cut offs lace trimmings and folds, had perhaps raised the bar of couture to yet another level. "She based her collection on the three Gs: Grès for the pleating and draping, Gaudí for the architecture, and Gaia for the sense of all-encompassing oceanic life that infused the clothes, like the outfits composed of coral or shells. Or the incredible engineered matelassé jacquard in a barnacle pattern. Or the silk chiffon in an oyster print, which had been layered, cut into circles, and ribbed (though that hardly even begins to explain the complexity of the result)." Style.com Sarah Burton has rightfully earned her position in the house infusing a bit of femme's touché into the creative-bizarre DNA of McQueen.
Versace's show had its models strutting down a luminescent runway in crisp white sophisticated outfits with sea horses, star fish and shells studded in gold. Donatella described her collection as "The meeting of old and new Versace" The mix of Donatella's signature design touch and Gianni's classic elements were refreshing ( I hate to repeat the same adjective but honestly no other word comes to my currently frozen brain to describe the collection which seemed as 'refreshing' as sea breeze on a sunny day with icy sugary popsicles in one hand overlooking surfers smoothly cruising the waves)
The cropped jackets in Versace and Chanel were a personal favourite, reminds me the 90's with Helena Christenson and Christy Turlington modeling for Vogue Italia editorials. The bejeweled jackets cropped at the waist put the 'F' to female form. Versace's SS12 cropped jacket with cropped sleeves was youthful & modern, summery and gave a chic luxurious look – by which I'm sure the first to bag them would be the Beverly Hills young & beautiful, who would wear it to exclusive chic socialite parties.
Bright geometry added that extra ethnic zing to the fashion weeks. It was like traditional geometric designs presented in a futuristic and modern way! I loved how Burberry put it forward! The clutches and the bags were exotic with the geometric lines running around and the organic colored beads just seemed perfect. Sass and Bide's tribal beading paired with neon colors of yellow and orange and prints with polka dots had my blood pumping again as the mix of different elements did not seem out of place, in fact it seemed to harmonize well and I could clearly see a ultramodern wearable quality in their collection!
Matt Satin as a fabric clearly was dominant as a textile among designers this season. Haider Ackerman, I believe, delivered a very artistic touch using the material. The matt thickness of satin paired with see through chiffon and the roughly tied fabrics trailing along seemed not only poetic but very modern as well. I've to abruptly stop here, and sprinkle some vanishing dust on myself as I have to rush to continue with my projects yet again! I hope to shower Famushu with more updates on Fashion very soon! Till then stay fashionable everyone!
images from Style.com and Elle.com
xoxox