Oh I wouldn't want to start with how much I wish to be at the fashion week in Milan right now. The tasteful clothes; the embellished socks from Prada! The 'sterilized petals' from Christopher Kane! I've been following the reviews (and photos) of all the shows from Style.com (not to mention teary eyed and smiling with joy at the same time). I would go on a limb here to say that Fashion to me is not just clothes it's a form of art ( art's third cousin perhaps). The way designers present their clothes, playing with color, mixing different patterns and sewing techniques and how deep they go into dissecting their concept and visualizing it not only for the onlookers but convincing the buyers that these art pieces can in fact be wearable ; is purely beautiful and makes me emotional! Alas, I shall stop here with my emotional tete-a-tete and give you fashionistas a brief of the trends that have come to fore this season:
Sheer Sleeves are Sheer Joy
I must admit that the trends this season seem to be a continuation of the past seasons. The use of sheer paneling and non-promiscuous exposure of the human body parts through sheer fabrics were equally beautiful and poetic. Designers like Victoria Beckham , Lacoste and Calvin Klein highlighted the midriffs of models through sheer fabric, with panels in solid colors that barely covered their busts. Though Phillip Plein, Blumarine and even Lacoste presented elegant sheer sleeves, that were more practical for the working woman.
I was quite inspired to make my own, as I believe that a blouse with sheer sleeves can be either worn to a semi casual meeting or an evening dinner. I used black jersey knit for the bodice and black sheer stretchable net for the sleeves to give two different textures and for a pop of color I used a bright floral printed fabric for the folds.
More Cut Outs
Cut outs are here to stay, aye? And the obvious answer is …yes. The geometric cuts contrasted with beautiful digital prints at Peter Pilotto. And the sensuous ones seen at Cushnie et Ochs was certainly desirable.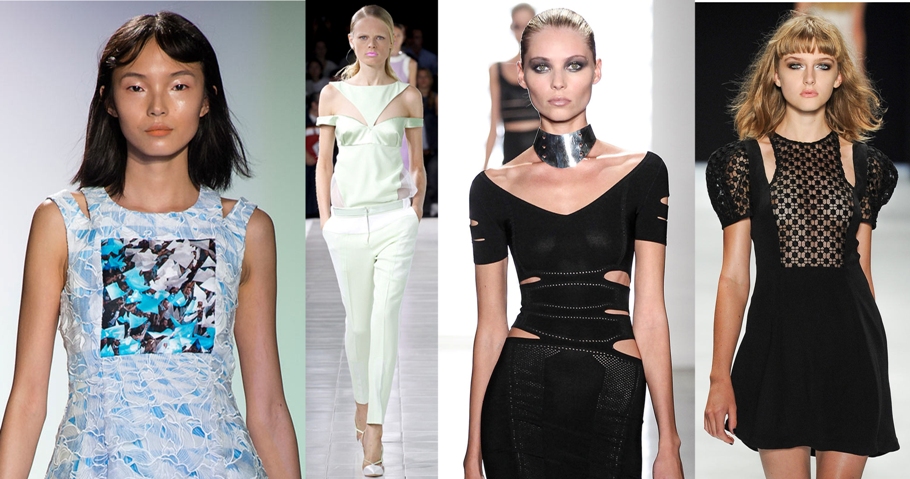 Raglan Sleeves!
With the sweatshirts and round shouldered silhouettes came the raglan sleeve. Looks like the sporty vibe hasn't left yet. Tommy Hilfiger for one, did an excellent job with the sports look exhibiting a fresh and energetic collection. And I'm already planning to cut up an outfit with a raglan sleeve!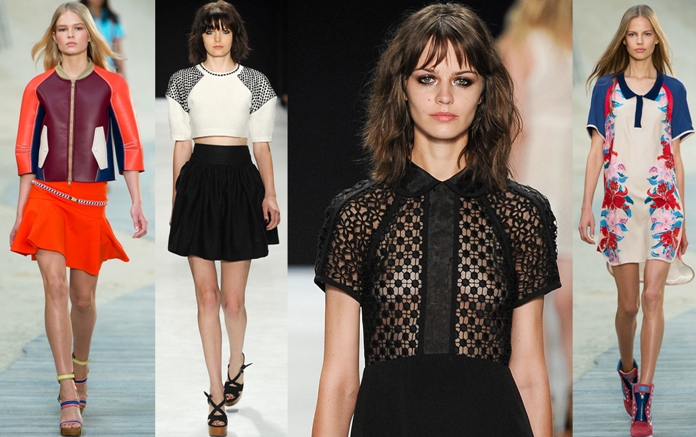 Shoes
The shoes have somehow taken a different turn, and a flat turn at that. Gone were the pointy heels this season was all about comfort.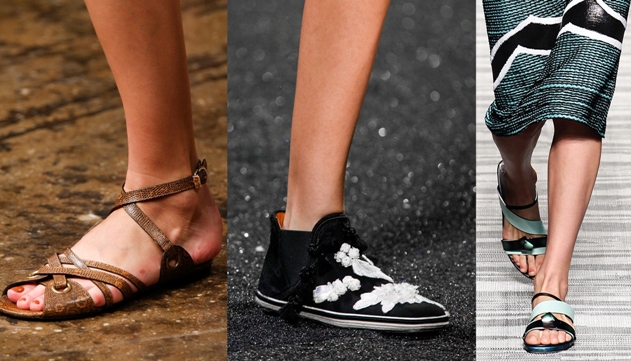 I will be updating more on the fashion week! But the ultimate question is…which of the trends would you sport today?
All images from Style.com and images of FAMUSHU must not be used without FAMUSHU's written permission