In my continued bid to incorporate elements of 'winter-wear' into my 'summer-wear' wardrobe (because clearly we don't have winter in the Maldives), I took a street style favorite of the past few seasons – Plaid. The grey plaid pattern frequented the runway shows of Fall 2017  and has become a popular choice for street style stars and bloggers. The classic pattern in a neutral grey was once stereotyped as a work appropriate fabric – and mostly worn in two piece suits or double breasted suit jackets. But, like every trend, plaid has evolved from being a dreary suit material to a  work-to-play wardrobe essential that can be worn in a variety of ways with diverse combinations.
Here, I wore a blouse that had a grey plaid element with white exaggerated sleeves (a nod to the '80s – which by the way, is another blossoming trend!). This was a simple way to incorporate plaid into my look. And the blouse was made of a thin material so it was perfect for the tropical climate in the Maldives. I completed the look with a black leather belt from ASOS, black high-waisted jeans from Missguided (which is extremely comfortable), my good ol' pair of Blink suede shoes, chunky gold hoops and a vintage gold necklace from ASOS.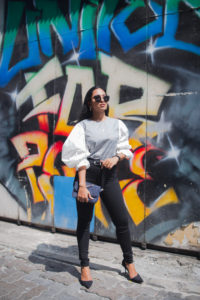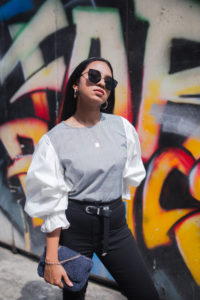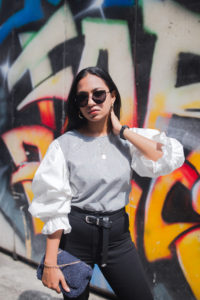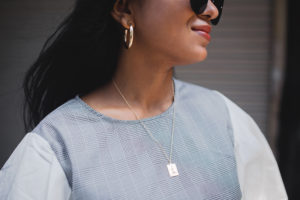 Photographed by:Â Skyrim
All photos are a copyright of the author of FAMUSHU and any image/s or any part of an image must not be used without the prior written permission of FAMUSHU.