Can you talk about your jewelry all day long? Well I'm sure if you have a little history behind that necklace or bracelet then it will be a conversation starter. I was browsing through the National Geographic website the other day and saw this section below on their home page: 'clothing and accessories' – the first thought that occurred to me-: "what the? What is this doing here??!" I mean this is NatGEo after all and the last thing that could occur to one is 'clothing and accessories'. But, I was glad to see it there anyway.  It is understandable since NatGeo documents the livelihoods of ancient times and different parts of the world and jewelry and clothing are vital aspects to the documentation.  So as I went through their all-around-the-world jewelry collection, I was simply blown away by the array of traditional jewelries from Bhutan, Egypt, China and Kashmir! They were so yummy that I felt like trying all of them on! The best part about it was that they had given a brief description on each piece regarding it's traditional historical origin and how it was made.
I've posted some pictures of the pieces that I loved from the National Geographic jewelery collection: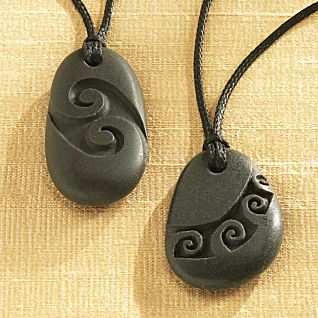 The maori stone jewellery. As I mentioned  earlier each piece comes with a little description of it's history, for this one it's said :
"The koru spiral (left) is a stylized fern frond and represents new life and rebirth, growth, and a deep connection to the earth. The moana (right) is a repeating pattern based on the ocean waves and serves as a reminder of the importance of being in harmony with nature. Each carved stone hangs from an adjustable waxed cord."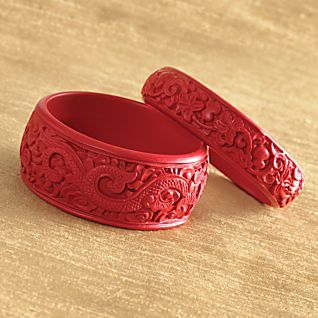 Carved Chinese cinnabar bangels
"These ornate cinnabar bracelets are reminiscent of those once popular in the imperial court of China. An ancient art form, the creation and carving of these lacquer bracelets is an intensive process requiring much artistic skill and patience…"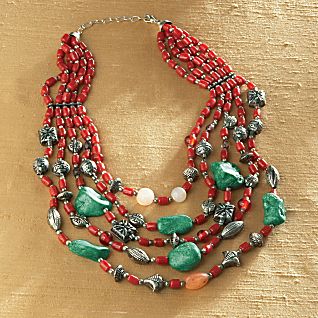 Himalayan earth and sky necklace :
"In Tibet, turquoise (called gyu) and coral are two of the most highly valued materials. Turquoise has been used as currency, and coral is a precious trade object in this landlocked mountainous country…"
Conversation starters can of course be your jewelry; like those times when you are surprised by your excited friend who shows off a shining white diamond crowned on a silver band and screaming "He asked me to marry him!!" and this can start off a huge conversation.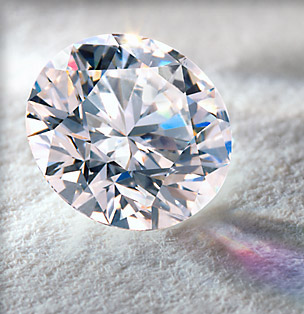 But the history behind that one beautifully cut diamond that was bought to adorn the finger of a lovely lady can be quite appalling. Ever heard of 'conflict diamonds' or 'blood diamond'? No? Then here's the thing: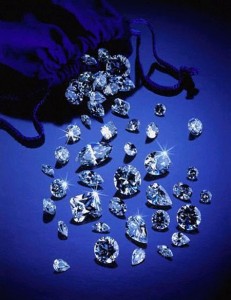 There was once a time when people did not bother to find out about how the sparkling white diamond on the engagement ring originated. The many innocent people who died because of that diamond was unseen;  until on December 1st 2000 the UN general assembly adopted a resolution to stop the role of diamonds in building conflict among the different parts of Africa – like Sierra Leone. The brutal rebel groups who slaughtered families and took children to train as child soldiers are fuelled by the funds they gain from selling conflict diamonds. They use the money they earn from these diamonds to buy arms. Once these diamonds are brought to the markets their origin is so difficult to trace since it has been infiltrated by then. Asking the jeweler whether the diamond you  are purchasing is 'conflict free' and checking whether they have a 'certificate of origin' is a good way to support the abolish of diamonds that are at the cost of  many innocent people's lives.
So, as NatGeo says-:  "think again" 😉