So how about storing away those pretty dresses and ruffled floral skirts in a dark corner in your wardrobe? And instead indulge in the current masculine trends? Refreshing and relaxed! This year's Festival de Cannes had its most fashion forward celebrities sporting the 'shorts suit'…yes girls, the combination of a tailored chic suit and a finely cropped pair of shorts combo is called a "shorts suit" – though this look shows off a masculine element, the shorts suit is full on feminine; mostly because of  the shorts! Oh yes! The shorts give the suit a whole new twist and one that fully enables a man to explore a ladies leg too!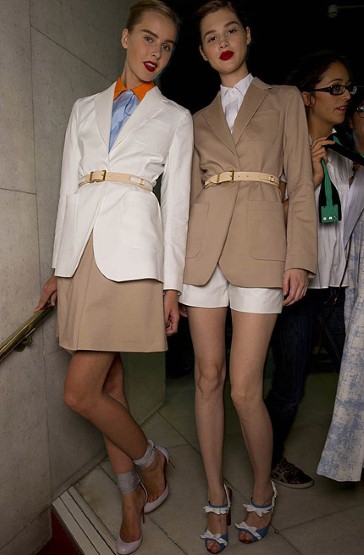 It is high time to sideline those tights and jeggings that were so tight that they cut into your skin! Relax people, loosen up a bit. Let the cloth move around your legs and let your skin breathe! Comfortable and chic, the voluminous trousers are in trend, Amen! Layering with oversized crisp shirts and cotton floor length tapered trousers is about staying one fashion notch ahead.
The currently hot flatforms are perfect to pull off those floor grazing trousers or the très court shorts to dramatize the length of your legs. This quirky little sister of platform shoes "flat form" as you see gets its name for its flat sole. To me they are reminiscent of the 60's, would have been a parfait match for Mondrian mini dresses. Chanel, Prada, Derek Lam and Michael Kors are some of the brands who sported the flatforms in their latest fashion week collections.
XOXO
images from here