It's going to be three years to FAMUSHU and I've been constantly asked about fashion and beauty, though the latter is a subject (to be honest) I am very laid back about. I hardly indulge in branded beauty products. However, I thought, since my readers and friends ask about what I use, I might as well just post it here.
It might come across as surprising…but I do not apply any cream on my face, my experience with facial creams have been quite a disaster, they seem to clog the pores rather than refresh or revitalize the skin. So instead, I apply natural packs, like mixes of honey and lime or banana and milk; they suit my skin more and keeps the skin healthy. Furthermore what goes 'on' the face is equally nutritious to have in your body! Drinking milk, water and taking honey Vit E &C are essentials for me.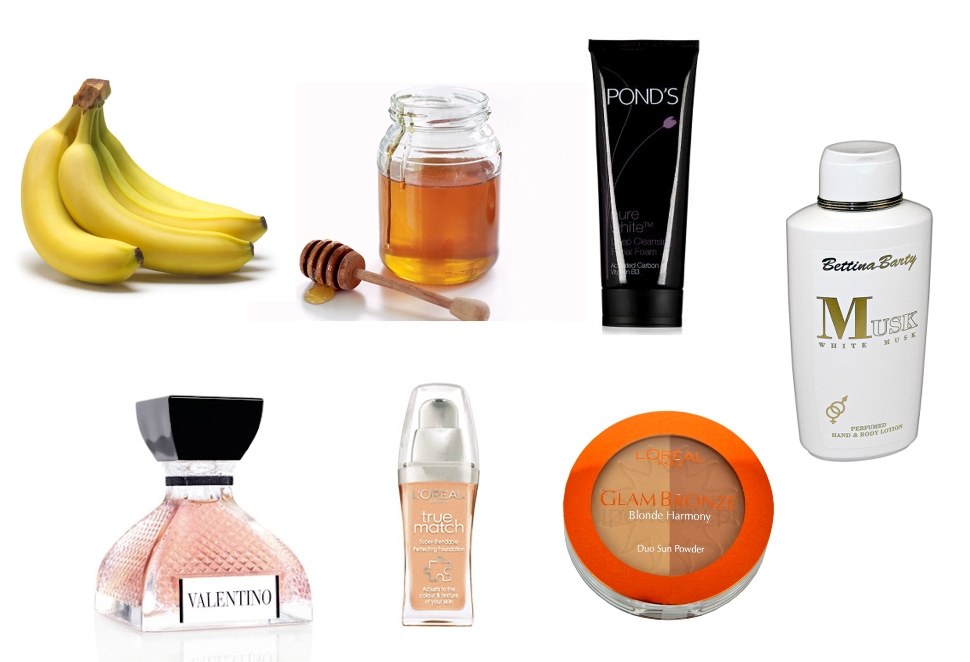 Ponds Pure White deep cleansing facial form is perfect as a regular face wash as it cleanses the pores of the skin gently exfoliating and gives a natural glow as well. I know this might not be exactly 'on the face' product but Bettina Barty's White Musk lotion is impeccable for hot weathers, since I live in a tropical island, the hot sunny weather can take away the moisture and damage the skin. White Musk has a soft smell and moisturizes the skin well – what I do sometimes is, I put a gentle amount of lotion on my face as well before I head out during the day…I know, to some it might come across as weird but it helps a lot to keep my skin moisturized!
Wearing a foundation on a daily basis is hardly my thing but for special occasions I do try to pat my skin gently with some L'Oreal Paris true match foundation. It gives a nice matt finish to the skin. To complement the look I brush some L'oreal Paris Glam Bronze Blonde Harmony duo sun powder over my temple and cheek bones to give a soft shine and glow.
And I know this does not exactly go onto the face but I always spray a gentle amount of Valentino before heading out to work or etc. The fruity yet sensual notes of pomelo, pear blossom and magnolia is lovely.
Hoping this briefly outlines what I use as beauty products I sign off, promising more beauty and fashion posts in future!
xoxo